Call for Interest: Reinventing Central City Public Art Sculptures
---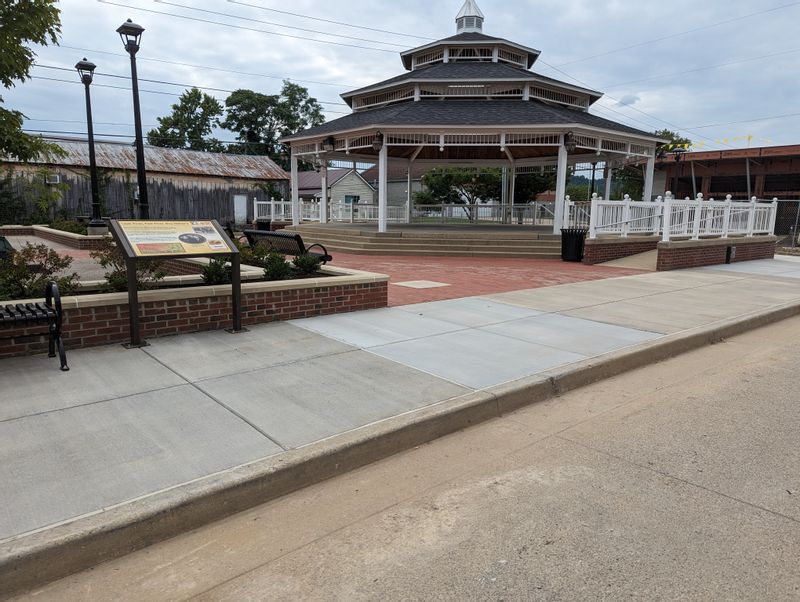 Reinventing Central City: Huntington, WV (West Virginia)
Call for Interest: Outdoor Public Art - Sculptures Huntington, WV
In partnership with the City of Huntington, RenewAll will commission an artist to complete and install two new sculptures in Central City Park, located in the West Huntington Neighborhood. RenewAll is a non-profit organization that connects people and resources to advance neighborhood revitalization in West Huntington.
Entry Deadline: Nov 10, 2023.
PROJECT DETAILS AND BACKGROUND INFORMATION
Reinventing Central City is a public art project with the goal to illuminate the rich history and promote community gatherings at the newly renovated Central City Park. The park was established in 1996 with a large gazebo that brings the community together with many activities, including live music, poetry, plays, exercise, family events, and so much more. The park surrounding the gazebo has been transformed with lighting, landscaping, and new seating. Public art in the form of a pair of sculptures is the final adornment for the park.
Central City in Huntington, WV is a lively business district featuring a farmers' market, many local businesses focused on arts and antiques, and annual events. Central City was once a city that was formed around the Industrial Revolution to bring industry to the mostly residential Huntington Area. Central to Huntington and Kenova the main cities in 1890s, it was a place where the railroad brought raw materials to be transformed into glassware, wood products (barrels, bungs, crates, veneers, and even portrait frames), Fesenmeier Brewery, Heiner's Bakery, and many other small businesses that grew to support the population. Read more history on TheClio.com (Link).
RenewAll sponsors this public art installation after receiving a grant from TMOBILE Hometown program. RenewAll is also the keeper of the community vision and story, leading the district plan (Link) and launching the Central City Museum. This is an opportunity for artists to showcase public art sculptures while enhancing the cultural environment of Huntington.
THEME
The selected artist will be asked to produce designs that align with the community's vision for revitalization, but the theme is open to interpretations by the selected artist. The sculptures should be physically and thematically suitable for exhibition in Central City Park, which is visited all ages.
ELIGIBILITY
This Call for Interest is open to all artists 18 and over. RenewAll will commission an artist to complete and install two new sculptures. Artists working in a variety of materials are encouraged to apply, including but not limited to stone, metal, found objects, natural materials, fiberglass, etc.
REQUIREMENTS
Artists must produce two designs for the installation that a committee will review. The review committee has the option to request modifications or reject the design. No work on the design should be started until approval of the design is received in writing.
Art must be suitable for a hands-on outdoor exhibition in a public space.
Art must be a minimum of 4' in at least one direction and no taller than 9'.
Art must fit on an existing 30x30 inch base and weigh no more than 2,000 pounds for each sculpture. The sculpture base is level with the ground.
Art must be installed with sufficient anchoring to prevent the sculpture from being removed, tipped, broken or overturned due to adverse weather conditions or normal wear and tear.
Art must be low maintenance and durable in four seasons of weather.
All art must be an original creation by the artist.
Works of art shall not create safety problems or liability concerns for the general public, RenewAll, and City of Huntington.
BUDGET
Artists' Compensation will be $40,000 for all material and commission costs related to the design and production of two sculptures, including installation costs. RenewAll will choose an artist based on qualifications and work with the selected artist to approve a final design for the two sculptures.
The Project Budget includes all expenses related to the research, investigation, design development, fabrication, and installation of the artwork including, but not limited to: artist and designer fees; design documents, renderings, and/or other media as required to communicate the artist's concept design development to the Project Team; signed and certified structural, and/or other construction/engineering drawings and specifications that may be required for fabrication; fabrication of all artwork elements; transportation of materials, travel and accommodations for artist or artist team; and all other project-related expenses. The payment schedule will be based on benchmark completion of contract execution (40%), design acceptance (50%), and delivery (10%).
PROJECT TIMELINE:
| | |
| --- | --- |
| Date | Activity |
| Sept 1, 2023 | Call for Interest Issued |
| Nov 10, 2023 | Deadline to apply |
| Nov 11- 17, 2023 | Applications reviewed- Artists may be contacted for interviews |
| Dec 1, 2023 | Artists Notified |
| Jan- Feb 2024 | Artist meets community stakeholders and presents designs; Final design is selected. |
| July- Oct. 2024 | Sculptures Installed as determined by the artist timeline |
| | |
REQUIREMENTS FOR SUBMISSION
Artist Application: Completed the form provided.
Artist Statement: Focus on creative aspects of work and conceptual alignment with the project.
Artist statement of interest: Describe the production timeline and propose a budget which delineates, at a minimum, artist fees for all design and labor for installation, separate line items for each type/category of supplies or material, and travel if appropriate.
Current CV/resume.
Portfolio of up to 5 works: 2-4 images of a single piece of artwork showing all sides of the work and including dimensions, materials, and placement.
SUBMISSION PROCEDURES AND DEADLINE
All materials must be received by email no later than 5:00 PM EST on Nov. 10. Completed Application packages can be sent to [email protected]. If you cannot complete the submission by email, please get in touch with the organizer using the information below.
A committee will review applications including 2 representatives from the Mayor's Council for the Arts, 2 representatives from the Central City Business District, and 1 representative from RenewAll. The Committee may contact artists with questions or request and interview.
ADDITIONAL INFORMATION
The selected artist will retain ownership of proposed designs until the two final designs are selected for the project. At that time, the ownership of the two selected designs and the artwork produced will become the property of RenewAll. The selected artist will be required to sign a contract to complete the work in accordance with the artist's proposal and requirements in this RFQ.
RenewAll may change the submission timeline and reissue the Call for Interest. RenewAll retains the right to reject applications and either cancel or reissue the project, make alterations in the scope of work submitted while in the process of review or while negotiating a contract with the selected respondent.
CONTACT AND QUESTIONS
Please direct all questions or requests for assistance to:
Lauren Kemp
Executive Director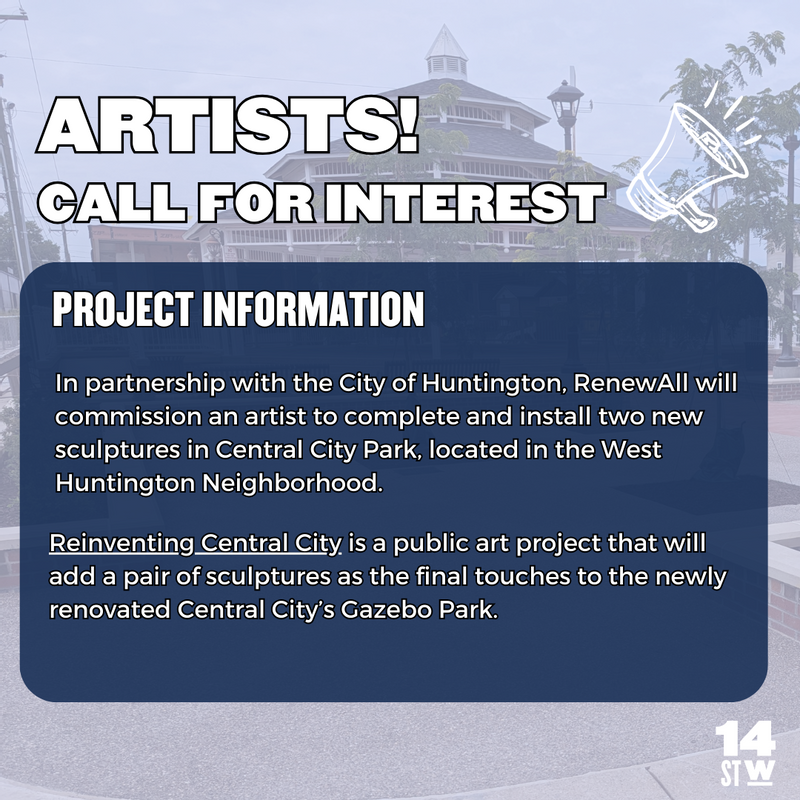 Click an image below to display the larger version.