What is a BID? Property Owner Information Session on BID DISTRICT to take place at RenewAll Inc. on 14STW in Huntington W.Va.
---
An Investment in Property Value
A Business Improvement District (BID) is a tool that can be used to secure the resources necessary to implement an effective revitalization program. Conceptually, a BID is a self-assessment of district property owners for generating revenues for services above and beyond the current level provided by local government or voluntary efforts. Property owners who choose to create a BID then have the majority influence on how these resources are allocated and the programs and services they support. A BID strategy is used by many towns across the United States! In 1994 the WV Legislature passed bill H.B. 4168 to address the deteriorated condition of many downtowns and neighborhood commercial districts.
BID's Big Goal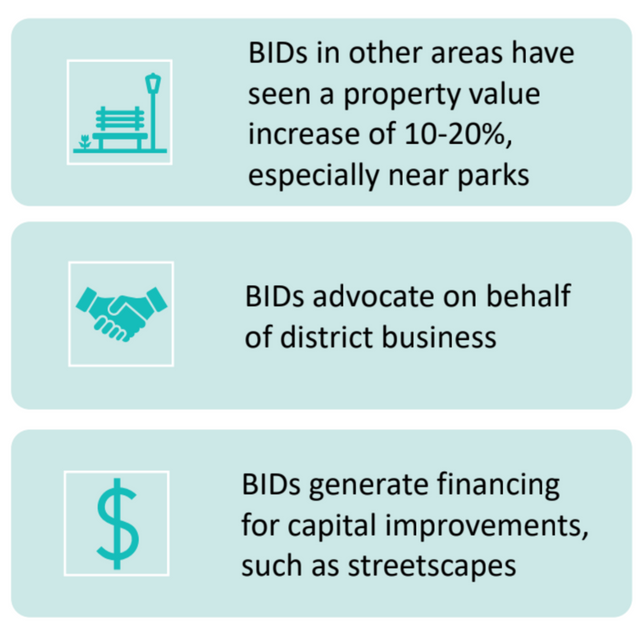 A BID allows the district's vision and plans to come to life by providing resources to support services and projects, plus property owners who contribute funds get to set the priorities.
Eligible Uses of Funds
• Beautification 
• Public services
• Marketing
• District management
• Strategic Plan development
• Public Safety
• Public transportation
Join the Information Session!
Terri Cutright will present the benefits of the BID and answer your questions. Terri Cutright is an expert on the topic in West Virginia, helping to create enabling legislation and successful projects at the community level. The City of Charleston recently created a bid with 37 property owners and has secured a lighting and transportation improvement grant, and created a facade grant for small businesses.
The Information Session will take place Oct. 12th at 9:30am in RenewAll's Conference Room at 725 14 Street W. Huntington, W.Va. Contact us to learn more.