Preserving Art, Culture, and History: Glass in Central City
---
Engravers at Huntington Tumbler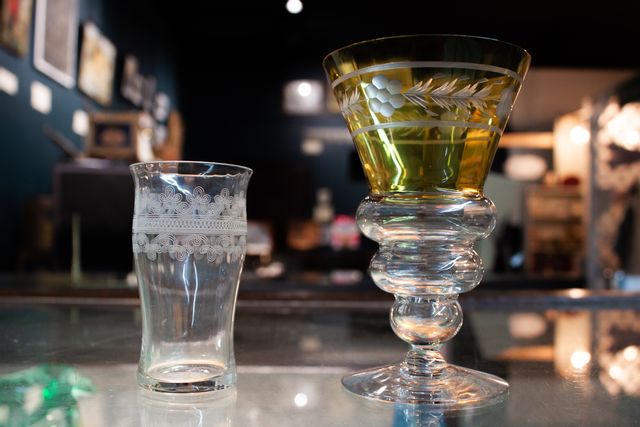 Huntington Tumbler Glass Company made a lot of drinking glasses and glasses for saloons during the early 1900s. While many might wonder about the work behind the beautiful etchings in on the Huntington Tumbler Glass drinking glasses, Earl Ray Bush told me all about the workers he knew at Huntington Tumbler many years ago.
"They had four engravers. A guy would sit, a molder," Bush said. "He would cut designs in the glass, then turn it over on the other side and copy it. You could look at one side then look at the other, and you could tell it might be maybe that much higher than the other side, but almost duplicated." 
Bush explained that Huntington Tumbler had four engravers and this is all they did. Huntington Tumbler also had a needle etching machine, that you could set the glass on a machine and it would fasten down around the glass and make a design around the glass. After engraving the glass, it would be sent to the decorating department to finalize the piece before hitting the stores. 
The glass drinking cups pictured were both manufactured and engraved at Huntington Tumbler. Which do you think is the molder's engraving? Which do you think is the needle etching machine? Read tomorrow's blog for the answer!