Ugly Holiday Sweater Competition
hosted by Village Antiques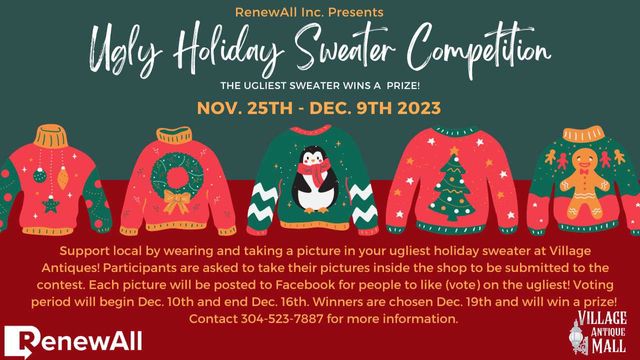 Description
We are excited to kick off our Ugly Holiday Sweater Competition here at Village Antiques! Carefully read the rules below to learn how to get involved. #SupportLocal on #SmallBusinessSaturday by coming down to Village Antiques in your ugliest sweater and taking a photo in our shop to enter the contest!
Photoperiod: Wear your ugliest sweater to Village Antiques and enter the contest anytime during business hours starting on Nov. 25th and ending on Dec. 9th.
Voting period: We will make a post on our page will all the contestants on Dec. 10th. Voting is determined by likes. Voting ends Dec. 16th
Rules: Sweaters must not contain or depict any unlawful, defamatory, obscene, sexually explicit, racial, or otherwise objectionable content, as determined by RenewAll in its sole discretion. Let us know if you have any questions! We can't wait to see your ugliest sweaters! If you need to buy one, we have the materials you need right here in Central City!
Village Antique Mall
610 14 St W , Huntington , WV 25704
10:00 AM EST
to 5:00 PM EST