Small Business Saturday
Shop Small in Central City!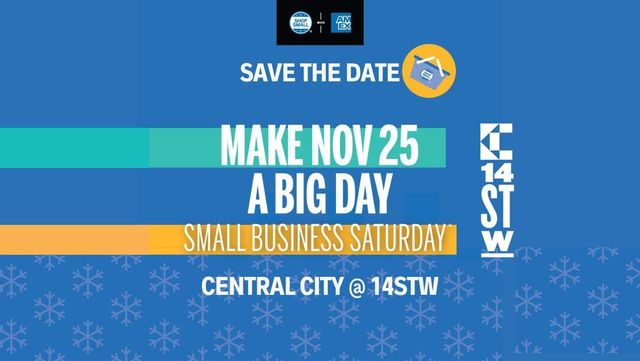 Description
'Tis the season to
#ShopSmall
on
#SmallBizSat
, Nov. 25, and all season long! Find your holiday needs at your favorite local business here in Central City @ 14STW! Mark your calendars and shop local this holiday season! The local businesses on 14th Street West have a wide variety of offerings including Antiques, Food, Art, and History. These locally owned shops offer beautiful furniture, a vast selection of art and vintage prints, handmade items from local craftspeople, collectible toys and games, vintage clothing and accessories, and home décor. The only limit is your creativity to design and decorate with the items that you discover in one of the many shops below!
Village Antique Mall & Central City Museum 610 14th Street West *Offers Gift Cards!
Hattie and Nan's Antiques and Books 52114th Street West
Thistle Patch Vintage Garden & Antiques 444 14th Street West *Offers Gift Cards!*
Brass Masters 701 14th Street West
AAA Antiques 606 14th Street West
Pam's Marketplace 735 14th Street West
Sloane Square Gallery 611 14th Street West
MFE Videos and Collectibles 709 14th Street West
The Peddler's Mall 800 14th Street West (With more activities!)
While you are shopping, stop into one of the food and service businesses for a holiday treat. At The Wild Ramp, local is the word to describe all of the wonderful products and the people who grow and make each one with care.
The Wild Ramp 555 14th Street West *Offers Gift Cards!
Cicada Books & Coffee 604 14th Street West *Offers Gift Cards!
Central City Cafe 529 14th Street West *Offers Gift Cards!
West End Tattoo Club 720 14th Street West
West Tenampa on Madison Avenue
A special edition to this year's event is Santa's Return (with a few extra friends too!) Get your photo with Santa and his friends at the Central City Gazebo during Small Business Saturday. The Huntington Children's Museum will also host children's activities at the Gazebo as well, making it a perfect day for family fun! Don't miss out on this chance to enjoy time with your family and prepare for the holidays while #ShoppingSmall!
Central City @ 14 ST W
544 14th St W, Huntington, WV 25704
10:00 AM EST
to 5:00 PM EST