Central City Fall Fest
hosted by the Old Central City Association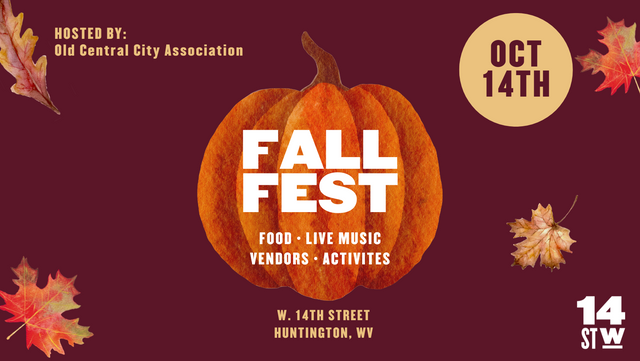 Description
Mark your calendars for Saturday, October 14th, as Central City comes alive with the vibrant colors and festive spirit of autumn! We are thrilled to invite you to Central City's Fall Fest, a day filled with excitement, community, and memorable experiences! Fill out the form to be a vendor, host an activity, or play music!
Join us at the Re-Opening of Central City Gazebo Park
Step into the transformed Central City Gazebo Park. Fall Fest officially kicks off at 10AM with the grand re-opening of the park, welcoming everyone to enjoy the new look and welcoming spaces.
A Day Packed with Activities
From the early hours of the morning to the evening, Central City Fall Fest has something for everyone -- More details coming soon!
Central City @ 14 ST W
544 14th St W, Huntington, WV 25704
10:00 AM EDT
to 5:00 PM EDT
Accepting Online Registration