Holiday Candlelight House Tour
Candlelight House Tour featuring Sloane Square Gallery!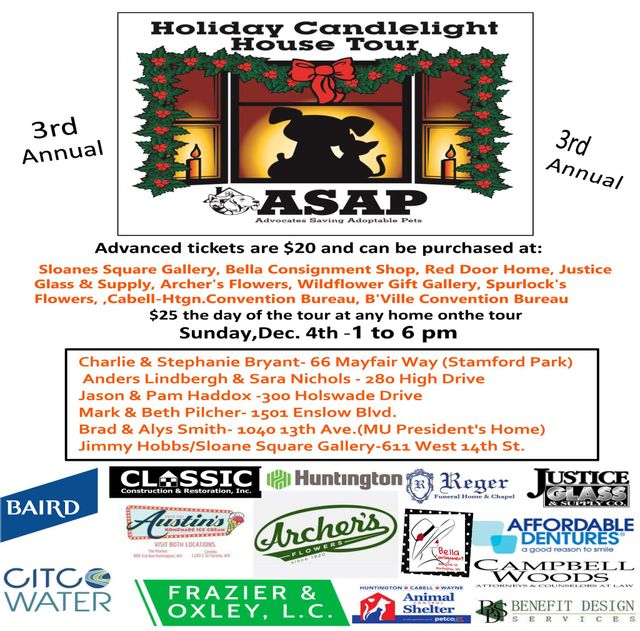 Description
On Dec. 4th, participants will tour five homes and one shop in the Huntington area that will be displaying beautiful holiday decorations for everyone to enjoy! Tickets are $20 before the 4th and $25 at the door of the homes of the tour. Proceeds will benefit Advocates Saving Adoptable Pets (ASAP)!
Advanced tickets can be purchased at:
Sloane Square Gallery
Bella Consignment
Red Door Home
Justice Glass & Supply
Archer's Flowers
Wild Gift Gallery
Spurlock's Flowers
Cabell-Huntington Convention Bureau
Barboursville Convention Bureau
The homes being toured include:
Charlie & Stephanie Bryant - 66 Mayfair Way (Stamford Park)
Anders Lindberg & Sara Nichol - 280 High Drive
Jason & Pam Haddow - 300 Holswade Drive
Mark & Beth Pilcher - 1501  Enslow Blvd
Brad & Alys Smith - 1030 13th Ave (MU President's Home)
Jimmy Hobbs/Sloane Square Gallery - 611 14STW
Central City @ 14 ST W
544 14th St W, Huntington, WV 25704
1:00 PM EST
to 6:00 PM EST
Private:No
RSVP Required:No
Accept Registration Online:No