---
Elegance in West Huntington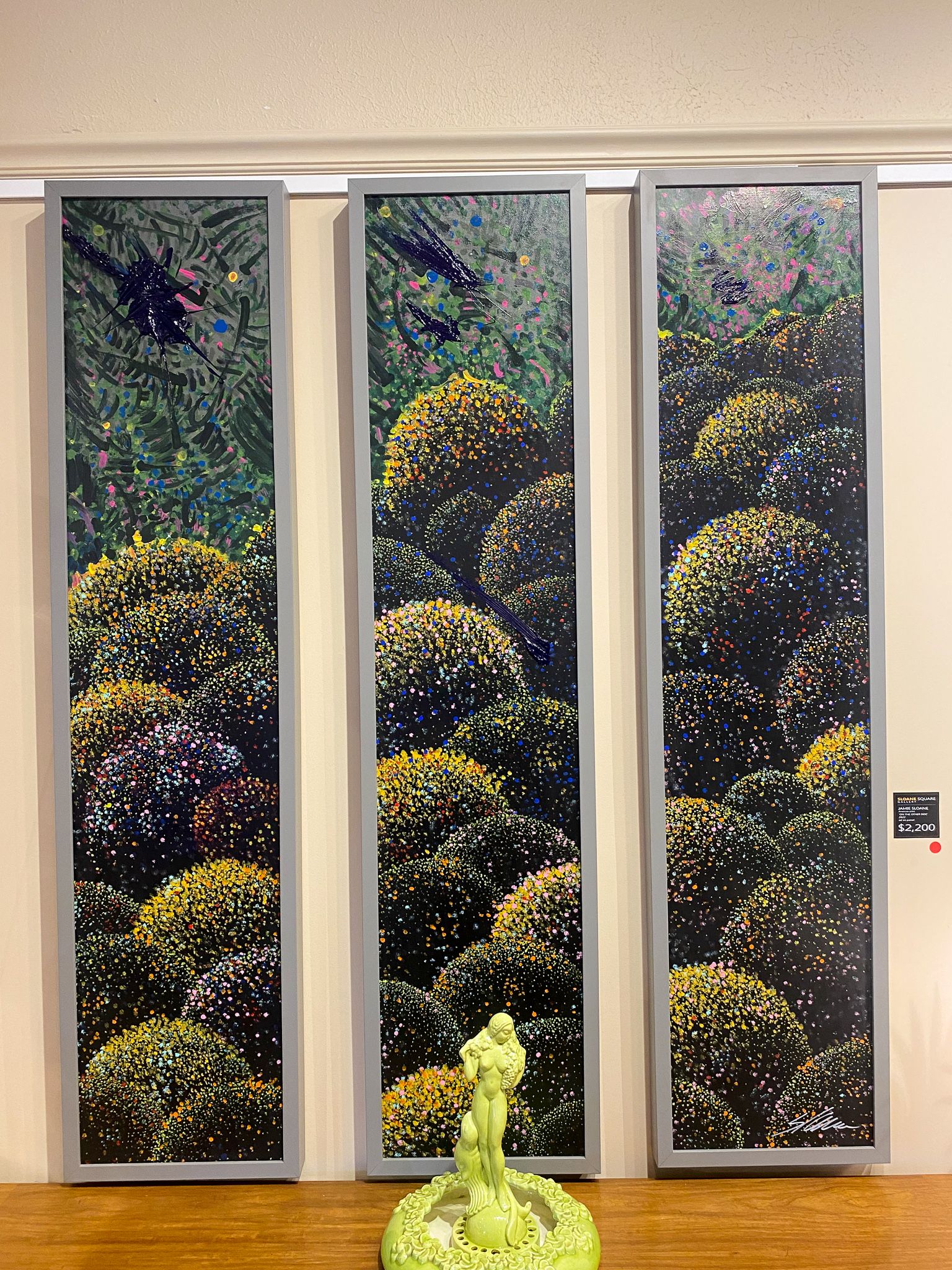 "This could be seen in New York City," whispered many visitors at the Sloane Square Art Gallery during the "Pointillist" Exhibition Opening Reception on Thursday, Aug. 4th. 2022. Jamie Sloane and the Sloane Square Gallery staff and vendors turned the shop into a Pointillism wonderland! Walking through the doors of the shop, you're surrounded by not only beautiful savory and sweet dishes, but also elegant art made up of only small points or dots. 
From chairs to paintings, sculptures, and even M&M candy, Pointillism covered the gallery. The shop was full by 6:00PM with lovers of art, community members, and friends. 
Tom Stephens, Pianist, set the mood.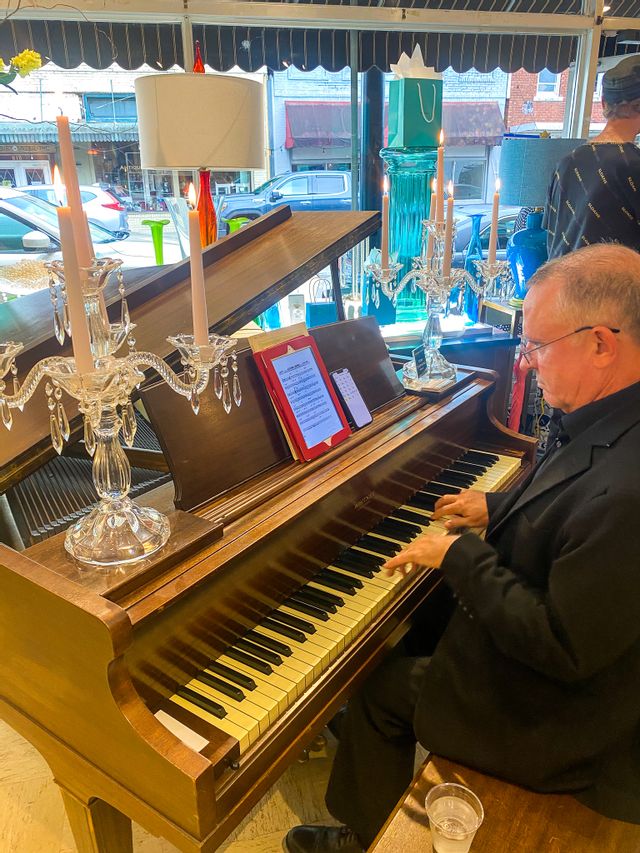 Pianist, Tom Stephens, set the high-class tone while playing on the famous piano that sits in the storefront of Sloane Square Gallery. But while the evening may have seemed just for New York dreamers, it was actually a free admission event, open to all of the public, inviting everyone to open their minds to new possibilities. 
In an interview last week, Jamie Sloane said he wanted this exhibit to not be a place where people just come to buy his art, but the exhibit should, "... be a place that inspires everyone. I want this entire shop to be a place that sparks the creative mind," he said.
Huntington Residents Want More
Many people complimented the design and the work done by the shopkeepers, as they turned the store into something completely different and new for this area. Some even said that this shop could be seen in a place like New York City. Most said that Sloane's Square Gallery is a place that Huntington needed more of. Emily Watson, local to the Huntington community, said she loves the shop. 
"I wanted to buy that so bad, but it's already sold!" She said while pointing to a masterpiece by Sloane. "I love coming here and the atmosphere. This store has turned this area around," Watson said. "I mean look what they did tonight? It looks beautiful in here and these kinds of events are what Huntington needs more of."
Feeling "Up-Town" in Central City
When I left the gallery late that night, I definitely felt like an "uptown girl!" The turnout was amazing for the reception, and it was awesome to see so many people come out to support local art. Jamie and Jimmy Sloane put on a great reception and never disappoint in being amazing hosts and friends on 14STW. The connection people have with Sloane's store and art is absolutely inspiring, and Sloane's goal to have the gallery be an inspiration for everyone who comes through seems to be hitting 100%.
Keep following Sloane Square Gallery on Facebook and Instagram. Subscribe to our newsletter for short stories on the shop as well! Swipe to see some of the pictures from the evening below.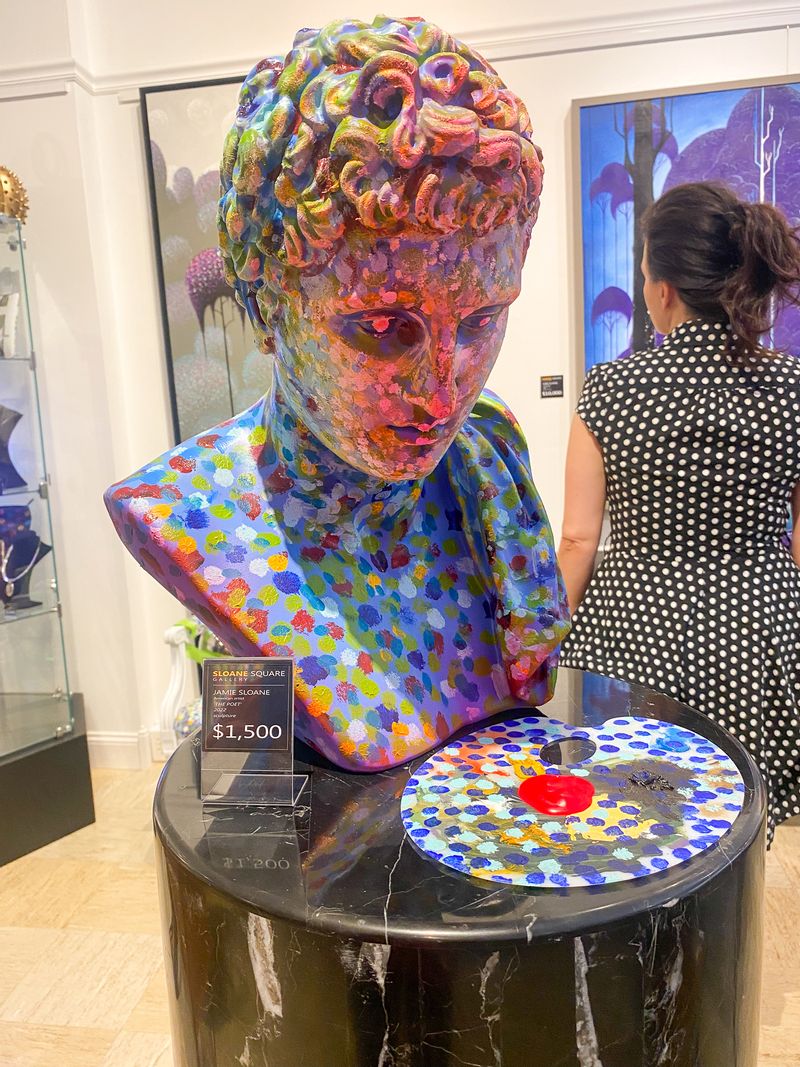 Click an image below to display the larger version.