"Pointillist" Exhibition at Sloane Square Gallery on 14STW in Huntington W.Va.
in
Action on 14STW
---
Jamie Sloane talks about the upcoming event
Sloane Square Art Gallery presents the "Pointillist" Exhibition. This exhibit will feature artwork produced by local artist, Jamie Sloane.  The opening reception begins August 4th inside of Sloane Square Gallery at 6pm and is free and open to the public. Jamie Sloane said that the exhibition is a space that welcomes anyone and everyone to come appreciate a public display and, simply, "Have a good time." 
What will be featured?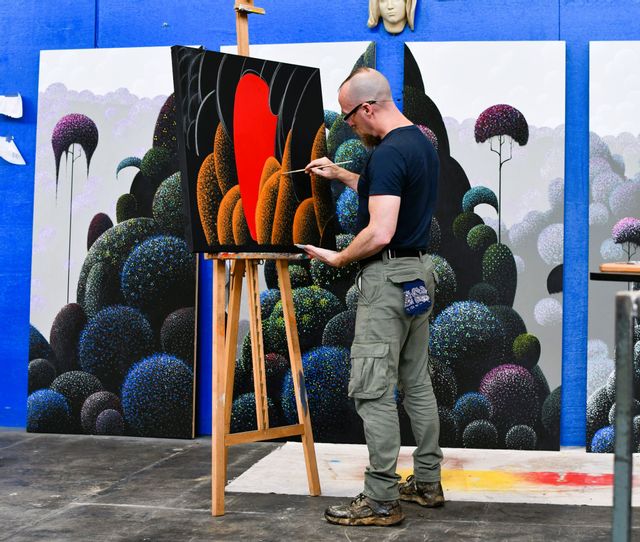 "We have 25 oil paintings that are new. One assemblage sculpture that will be very colorful and bright," Sloane said. "An additional 13 to 14 pieces are coming out of the private collection to be displayed and these pieces have never been seen by the public. I'll also have a larger piece by the front door, so when people walk in, they are hit with pointillism and get to see its artform all around the entire exhibit."
What is Pointillism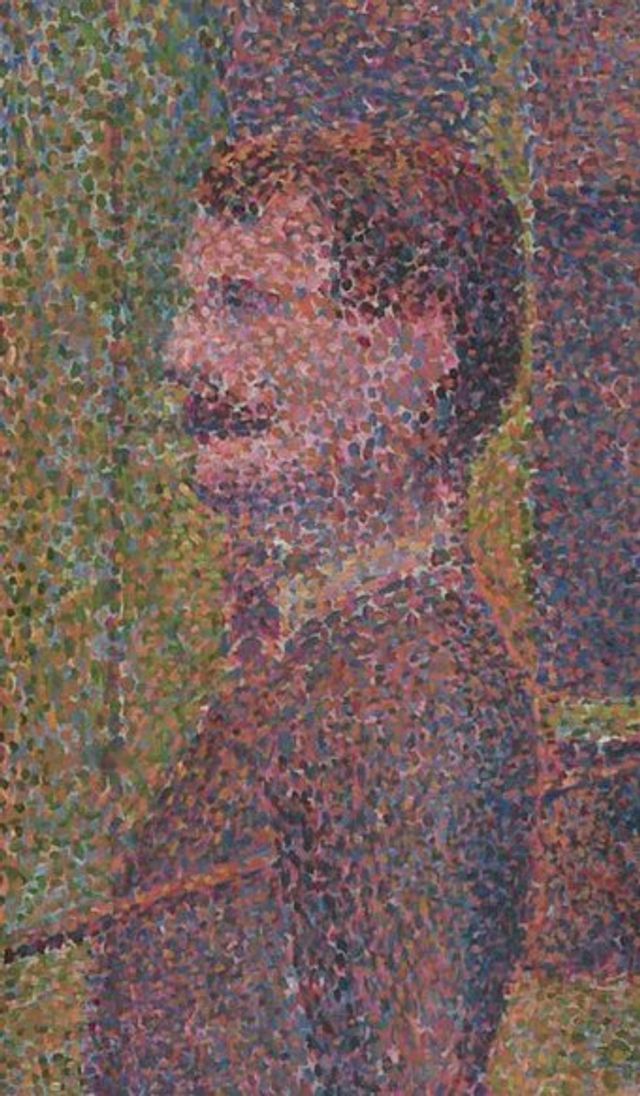 "Pointillism is realism pulled apart," as Sloane would say. Branching from Impressionism, artists George Seurat and Paul Signac developed the pointillism technique, which can be simply described as small, distinct dots of color that are placed to form an image. "If you were to look at something under a microscope, you'll find out it's made out of circular molecules, which is, in a sense, organic pointillism," Sloane said. "Pointillism makes an image vibrate and it's just beautiful."
* Image to right is an example that shows detail from Seurat's Parade de cirque, 1889, showing the contrasting dots of paint which define Pointillism. *
Why Pointillism?
Pointillism was Sloane's mother's favorite form of art. "She recently passed so this is really a tribute to her," he said. Sloane said the five-piece "Tributation" is a tribute painting to his mother and is a pointillist landscape that she would have loved. Pointillism is a tedious form of art, that requires lots of patience from the artist.  
"Anything of beauty, takes the most patience," Sloane said. "Michael Angelo said that 'Patience is beauty,' and I never understood what the quote meant until I really sat down and focused on certain elements of my artwork."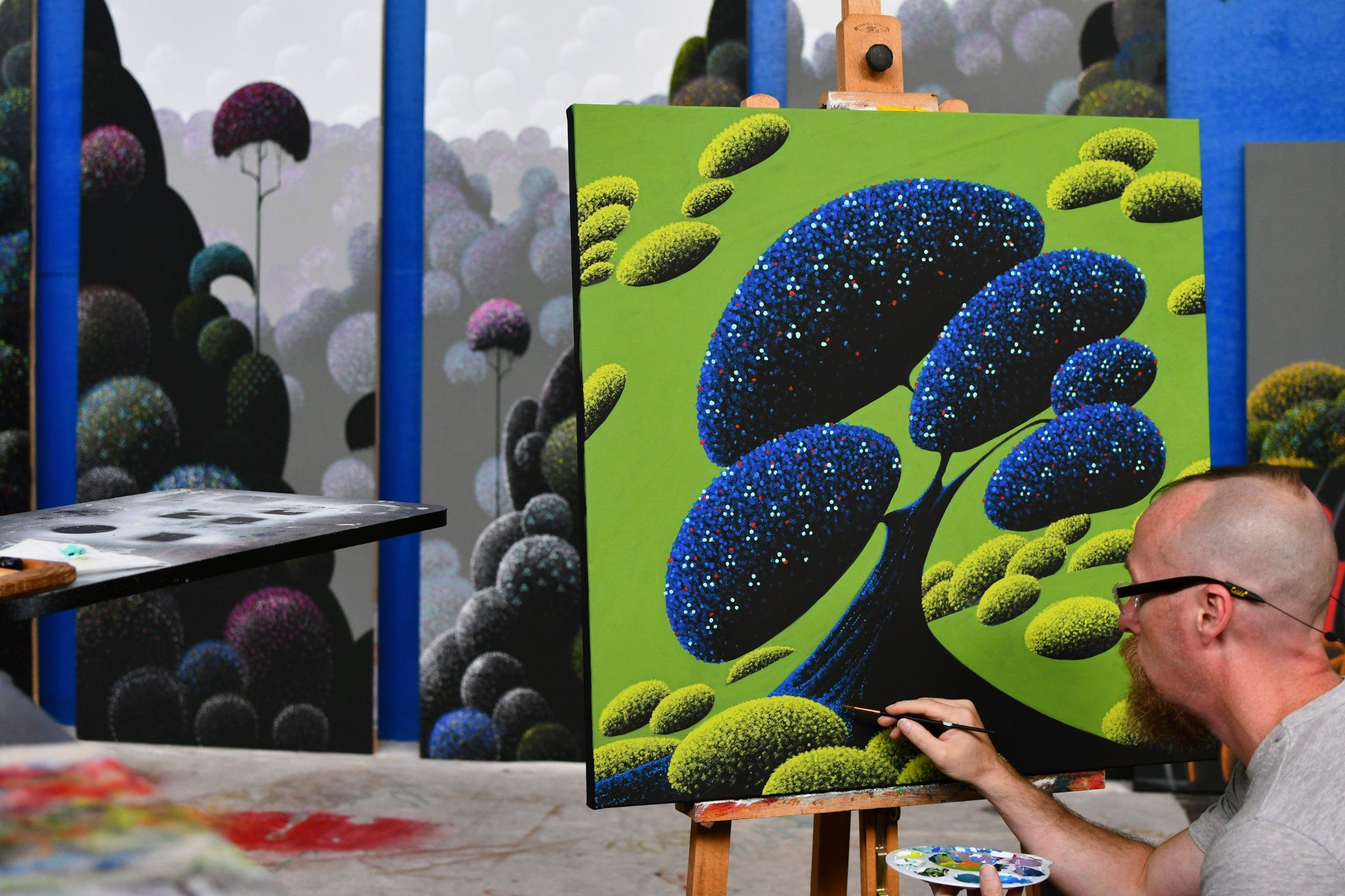 Jamie Sloane, an artist, business owner, and an inspiration
"I want to inspire people," Sloane said. "I think a lot of people think things when they come here, like, 'I thought I could do something like that,' or, 'I thought of that once, but I never did it,' but if you put it in front of them, I think that gets them halfway there, or maybe inspire them to try something," he said. 
Sloane said he hopes that the patience used with pointillism can inspire patience to the public, as patience is truly beautiful and surprising. He explained the exhibit in general is meant to not only inspire the public, but other artists in the community to overcome the obstacles of running an art gallery and creating art. "I want to be an example of something working and be someone who doesn't let the odds beat them," he added. "There's a lot of talent in the world, and at the heart of it, it takes a lot of hard work."
Sloane started his art as a hobby in the military. "It was either do push-ups, or draw, and I was actually a good drawer," he said. Sloane predicted he started painting around 2003, but mentioned he won his first art ribbon from the Huntington Museum of Art when he was in sixth grade. I guess it can be said that Jamie Sloane was born a natural talent. He said his biggest accomplishment has "definitely" been the creation and success of Sloane Square Gallery. 
Follow Sloane Square Gallery
Updates on the Sloane Square Gallery can be found on their Facebook and Instagram. Subscribe to our newsletter to get instant updates on the "Pointillist" Exhibition and other events Sloane Square Gallery and on 14STW!