Preserving Art, Culture, and History: Action on 14STW
---
Artists' Reception Countdown!
(This event has passed.)
As we clean up and wind-down from Old Central City Days, I wanted to take the opportunity to continue to countdown to our upcoming events on 14STW! Our next event is THIS WEEKEND. If you're wondering when the fun will stop on 14STW, it's not looking like it's going to be anytime soon! This weekend, three artists will come to the Village Antique Mall and sit with their displayed artwork, allowing the community to have a meet and greet session. As you probably know, the Antique Mall hosts different artists in the upstairs every month, and displays their artwork for an entire month. Community members have the chance to buy and see their artwork during the time it's up and at the end of the month, there's a chance to meet the artist! This month, we had three artists' work on display and all three artists will be present this weekend. Each day leading to the event, I will post some fun information about each artist and preview their work through the website so keep a close eye out for all the details! 
Kathryn Thompson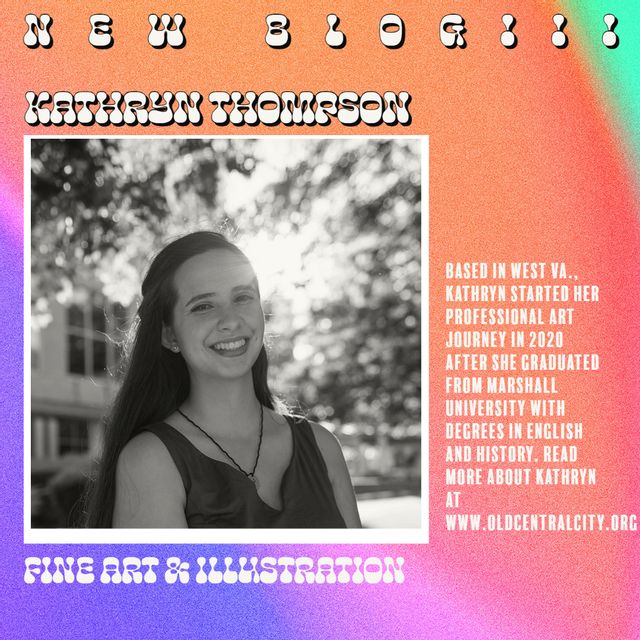 Today we are going to preview Kathryn Thompson! Kathryn is a native West Virginian, whose artwork focuses on the intersections of fantasy and reality, the supernatural and nature. She primarily works with oils and gouache, but ventures into other mediums as well, and recently, she's been looking for ways to turn unusual items into painting surfaces.
While she has always loved creating art, Thompson has only recently made the move into professional artistry. She received her degrees in English and History at Marshall University and graduated during the economic shutdown of 2020. After graduation, she decided to turn to art as a career instead.
Thompson teaches K3-12 art at Grace Christian School and works on her own art in her free time. Kathryn hopes her pieces bring viewers a sense of the wonder and delight she has found in fantasy worlds and fairy tales.
As a lifelong "West-Ender", she is excited to be a part of bringing the arts to this neighborhood.
Some words from the artist...
"I hope my artwork brings the same wonder and delight to viewers as my favorite stories brought to me," Thompson said. "Most of my work is inspired by fantasy worlds and fairytales. I'm excited to have my artwork displayed with two other such amazing artists."

She also added, "I'll have some hand-embellished notebooks, some stickers, and maybe some notecards, professionally-bound journals, and some originals at the show on Saturday." 
Come out and see Kathryn's work on display and for sale at the Antique Mall TODAY!