Preserving Art, Culture, and History: Shop Feature
---
Sloane Square Gallery
Local artist Jamie C. Sloane displays his work and more art, fashion, floral, and lighting displays at the Sloane Square Gallery on 14STW. While there is usually music playing and filling the street in front of the shop, the beautiful glass and art displays make this place hard to miss. The displays are constantly changing, which make for a different adventure every time you go but the elegance of the store and artwork inside stays. 
Bauhaus: "The Kiss"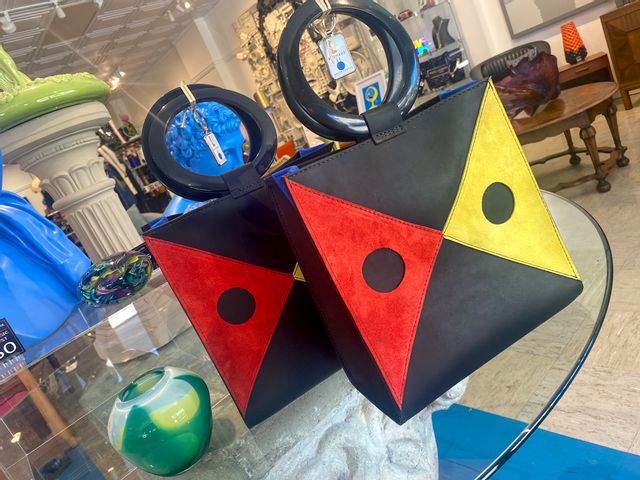 Today while walking around Sloane's Gallery, I noticed these purses on top of a display case. These purses are handmade by Jamie Sloane, and represent his Bauhaus inspired sculpture, "The Kiss," which went up on display at the Huntington Museum of Art in 2021.  
Straatiches Bauhaus, better known as Bauhaus, was a German art school that was open from 1913-1933, and focused on crafts and fine arts. The school was founded by Walter Gropius, who also designed the Huntington Museum of Art. Bauhaus became known as one of the most influential currents in modern design and modernists architecture. "The Kiss" was inspired by the Bauhaus design, and Sloane was able to recreate his sculpture into other pieces of art. Comprehensive artwork, which is that all arts will eventually be brought together, is what Bauhaus was once built on, and Sloane recreates that within his design of "The Kiss".  Along with the purses, Sloane has recreated "The Kiss" into pillows, keychains, signs, and t-shirts. 
Like what you see?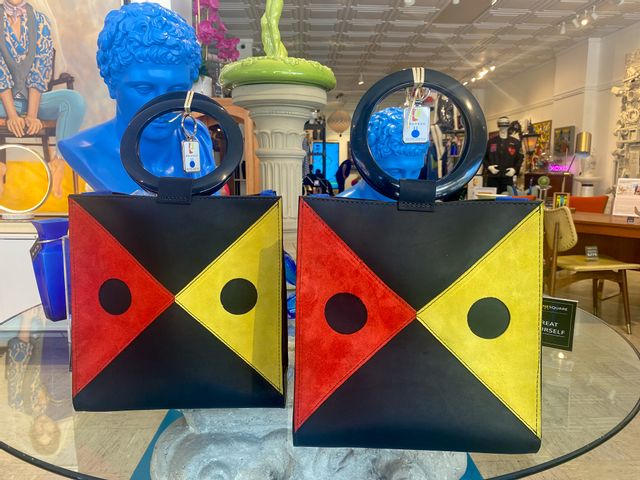 These purses are handmade with real leather and locally produced by River City Leather before their closing. The yellow and red bird can be seen kissing once again on the face of the purse. The high quality shows on the colored design and the purse has subtle, different textures adding uniqueness to the bag. Visit Sloane Square Gallery and this bag could be yours!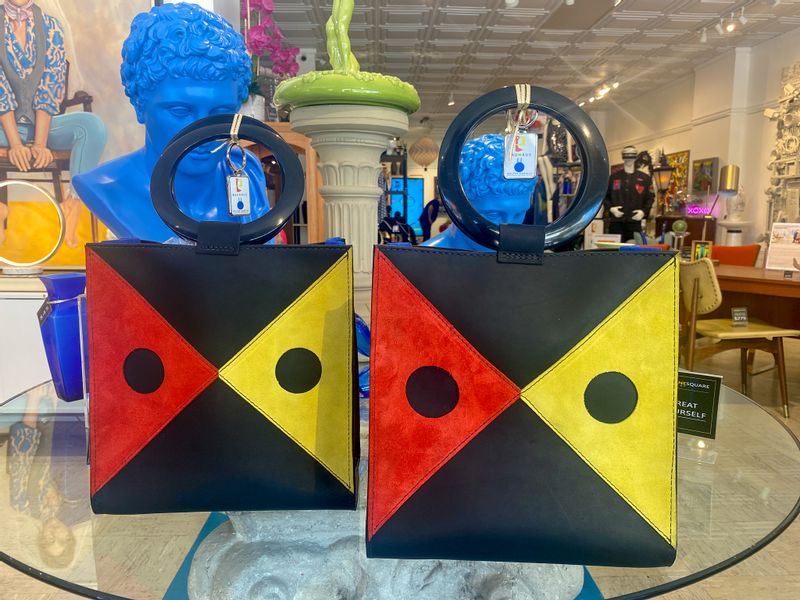 Click an image below to display the larger version.