Preserving Art, Culture, and History: Action on 14STW
---
Central City's Village Market Pop-up Fair: May 21st Overview
On May 21st, local vendors and artists gathered by the Village Antique Mall for a pop-up market fair. The market fair included live music all day by Gustavo Halley and Keyamo Onoge. Local craft vendors like Odd Ball Collective, Jewelry by Jade, artists Kathryn Thompson, Kentucky Gypsy, Crafternal Ind, Blue Buddah Oddities and Dan Testa's Spray Art were featured at this month's market fair. Dan's Spray art and Joe Cox's Public Press did live demonstrations during the pop-up fair as well.  
All the way from Puerto Rico: Gustavo Halley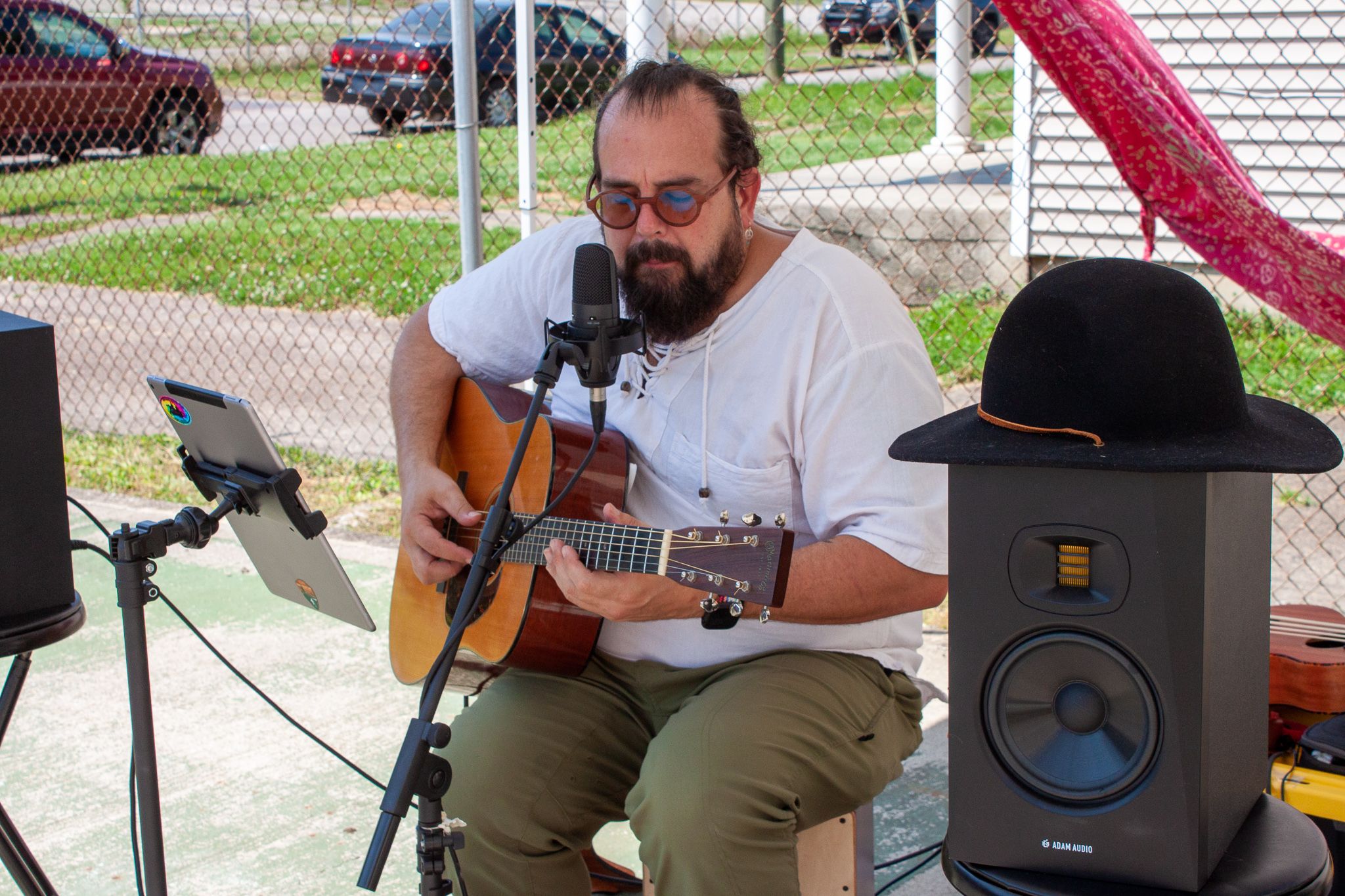 Signing Glass: Patti Blenko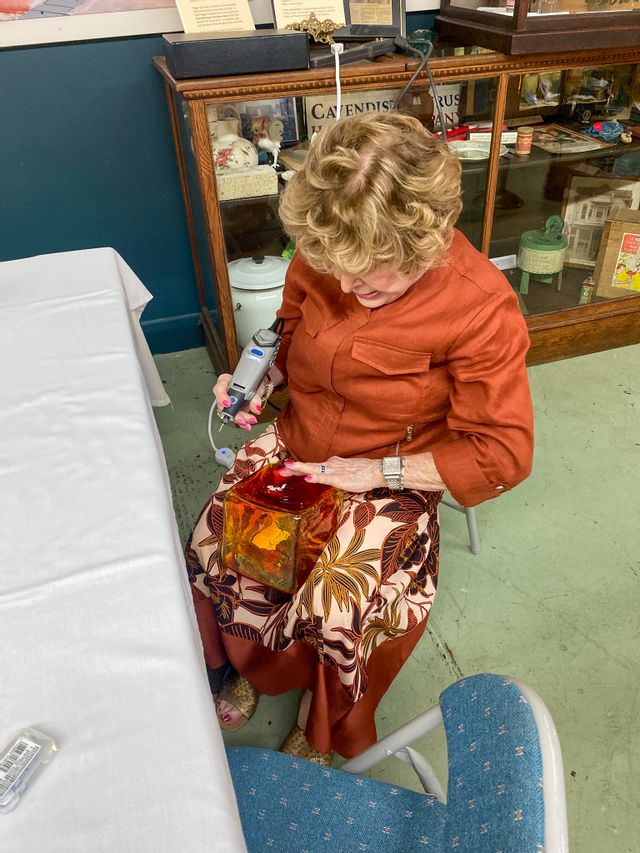 Another visitor during the pop-up fair was Patti Blenko. She was signing glass for free and talking to locals in the community who were interested in Blenko Glass Company.
As mentioned in previous blog, glass collectors have a keen eye for which glass company produced certain glass products. Patti Blenko was able to quickly identify Blenko glass, as she is the wife of Walter Blenko, and would use a tool to etch her name into the Blenko pieces. 
Glass blowers would etch their names into their pieces when they would create them. The Blenko family would go out into the community and also sign glass peices that were made by Blenko blowers. Signing the glass can increase the price but some argue it can lead to confusion later down the road. Still, Patti Blenko enjoys going out and continuing her husbands tradition of signing glass. Patti set up in the Central City Museum during the market fair with her daughter Kristen. Kristen also had a keen eye for glass, and was able to spot Blenko very easily. Kristen did not sign any glass, but her and her mother travel together and represent Blenko in the community.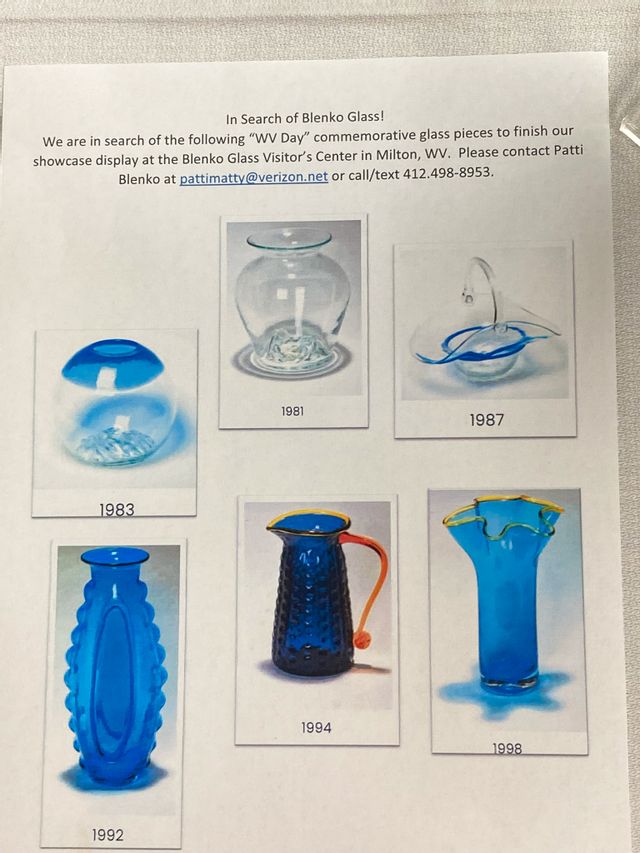 Help Patti Blenko's search for Blenko Glass pieces as she is looking to finish the showcase display at the Blenko Glass Visitor's Center in Milton, W. Va. See the image to contact Patti about the glass pieces if you can help complete the search!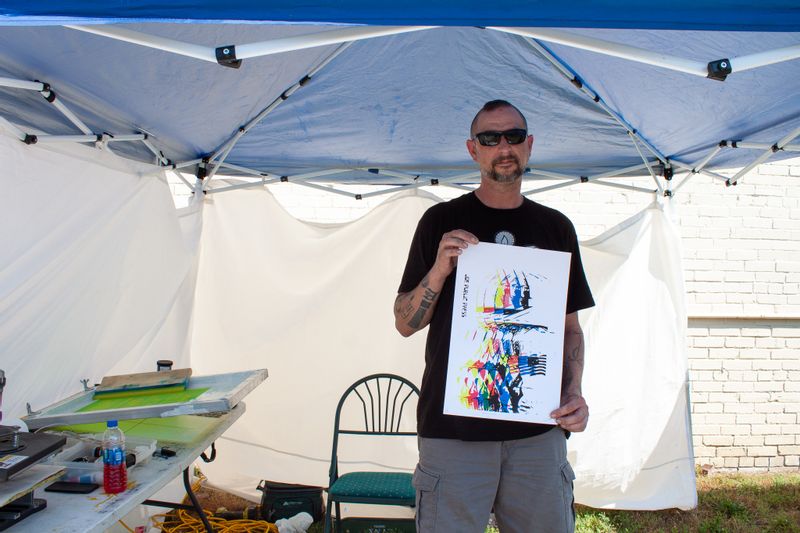 Click an image below to display the larger version.